3 million views with LinkedIn content marketing: a buck-fifty guide
Gary Vaynerchuk gets 2k to 60k views when he publishes an article on LinkedIn. But what about the rest of us? Is LinkedIn content marketing an option for those of us who aren't already social media celebrities? Enter Louis Profeta. This ER doctor isn't a household name. He's got less than 200 followers on Twitter, and in 2010 he published a book that currently ranks #210,312 on Amazon. And yet, Profeta's LinkedIn articles have collectively been read more than 3 million times. An article Louis published last October already has 648k views. He might only have 1% the LinkedIn followers as Gary V, yet Louis averages nearly twice the comments per article. So how does he do it? How can someone without a significant following use Linkedin's unique combination of publishing platform and social media site to reach potential customers?
Just want a checklist? Get the insider's checklist to LinkedIn publishing and shortcut your path to traffic. Click here to get the LinkedIn checklist. ->
#1 Research your topic
I was reading up on a startup the other day. The execution was flawless and the product clearly was the result of many long nights. But in the end, the product got very little traction, and the startup sold to a larger company in a move the industry calls an "acqui-hire": The company was purchased for the people only, and the product was shut down. It's a move startups make when their product usage and their bank account are both rapidly moving toward zero. Half the battle is choosing the right battlefield. Execution only matters if you're executing on the right plan. So before you jump into writing your first LinkedIn post, put some thought into the strategy and topic.
Find a hero or two
Smart people can learn a skill from scratch. Smarter people study those who have already learned. Go to LinkedIn and search for posts in your industry. Find a couple of the more popular authors, and go to their author pages. You can find this at the bottom of any article by clicking the link titled "10 articles" (or whatever number they've written).

Now start answering a few important questions:
How many views and likes do they get per article?
When did they start finding their stride?
What topics tend to perform best? (Ignore the posts that do 10x better than average - viral content is hard to replicate reliably. You want to identify the strategy behind consistent results.)
How often do they publish?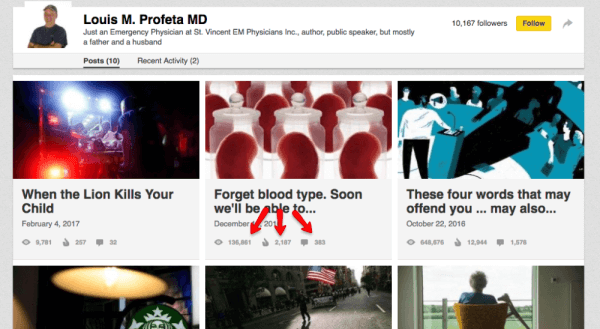 Next read through some of their higher performing articles:
What headline formulas are they using?
What's their content structure?
Do they use images heavily?
How is the audience engaging in the comments?
What calls to action (if any) do they use in their articles? (Promoting an email list, a product, etc.)
Finally look at how they promote:
Which social networks do they use most heavily? (Twitter, LinkedIn, Facebook)
Where do they have the biggest following?
Do they have an email list? (one of the best ways to cultivate an audience)
Are their articles shared on LinkedIn channels?
Once you've gone through this process for a few of the authors writing in your space, you'll have a pretty strong idea of what works and what doesn't work for your audience. Later on, we'll come back to these "heroes" and look for ways to get their audience's attention.
Explore relevant LinkedIn channels
LinkedIn uses "channels" to feature the best content. From "Entrepreneurship" with 16 million followers to "Travel & Leisure" with 2.8 million, these channels use a combination of algorithmic and human curation to surface some of the top articles each day. You can use Pulse Discover to browse through the most followed channels and find those most relevant to your industry.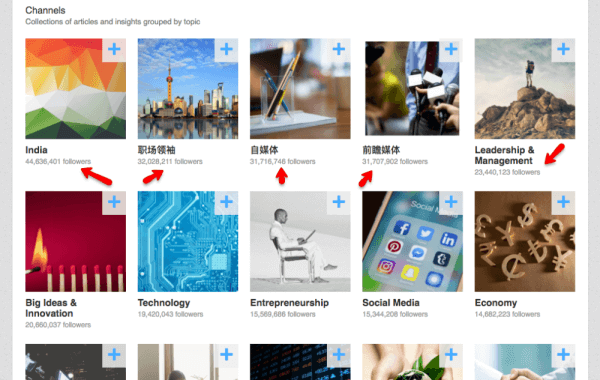 Later in this guide, we'll explore how to get your article featured, but for now you'll want to use these channels to get a feel for what's working in your industry. Answer the same questions listed above for heroes, and look for the constant thread. What do the most popular articles on your topic have in common?
Widen your net to the entire web
Alright, so now you've got a decent level of expertise in content marketing on LinkedIn. Time to take a step back and see what's working across the wide web. Go to BuzzSumo and start typing in related keywords. While you can't see actual traffic, the social sharing stats provide a fairly accurate corollary. With a few initial topic ideas in mind, start ideating and exploring related topics. After a few minutes of this research, you'll likely have identified a couple topics that tend to do particularly well, plus you'll have an ordered list of the most popular existing articles on the topic. Instead of just relying on your own imagination and intuition in choosing a topic, you can learn from the millions of articles already published to give your own writing the best chance at success.
Bonus tip: Recycle your own content
One last thing before we jump into actually writing and promoting your LinkedIn post. If you already have existing content - on your blog, on Medium, or elsewhere - you might want to try publishing some on LinkedIn.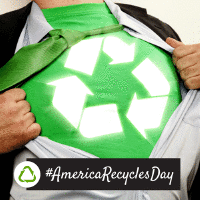 The advantage of this strategy is clear: it will save you massive amounts of time writing fresh, original content. If you simply don't have the time for additional writing, treating LinkedIn like a syndication channel might give you a little extra traffic with very little effort. The disadvantage of course is that each new content channel - whether a friend's site or LinkedIn's publishing platform - has it's own quirks. The audiences are slightly different, and the "voice" of the site is different. This is why we did all the research in finding "heroes" and browsing through LinkedIn channels. If you just republish rather than writing original content designed for LinkedIn, you're unlikely to realize the full potential gain from content marketing on LinkedIn. Time allowing, the best plan would likely be to write at least 5 LinkedIn-original articles to give the channel a fair trial. Then, depending on the performance of those articles, you could decide whether it's worth continuing to write fresh content or better to focus elsewhere and simply recycle content on LinkedIn.
#2 Write the perfect article
Writing the perfect article on LinkedIn comes down to three elements:
Having solid content that improves people's lives
Using quantitative research to give it a boost
Using qualitative research to fine tune

As an expert in your field, writing solid content is just a matter of getting that knowledge out of your brain and onto the internet. Think about what you wish others had told you and what lessons you had the hardest time learning. Once you've got a solid backbone of valuable content, it's time to use qualitative and quantitative research to give your article the best chance to flourish in the wild. The research you did in step one will give you that qualitative feel for what works for your target audience on LinkedIn's publishing platform. As for the more quantitative research, let's dive in!
Write long-form, value-packed content
Writing is painful. Sometimes it feels like you're trying to pull your own brain out through your fingertips. Sometimes you'd rather do anything other than write. Which can actually come in handy - I've been known to clean my apartment most thoroughly when I'm trying to avoid my keyboard. But given how difficult writing can sometimes be, it's tempting to write a short post and leave it at that. I mean, Seth Godin rarely goes over 150 words in his daily posts, yet he has a million plus subscribers and a shelf full of best selling books. So why can't we all write that little? But as successful as Seth Godin has been, statistics show longer posts tend to have higher impact. Also, you haven't been writing daily since just after the internet began. As a general rule of thumb, you never want to write less than 600 words, and the real sweet spot is between 1,600 and 2,000. In a study of their blog content, Buffer found social shares spiked sharply on posts over 2,000 words and continued to climb for posts of 2,500+ words. At the same time, Medium found that the optimal post for maximum average reading time is about 7 minutes - or 1,400-1,600 words.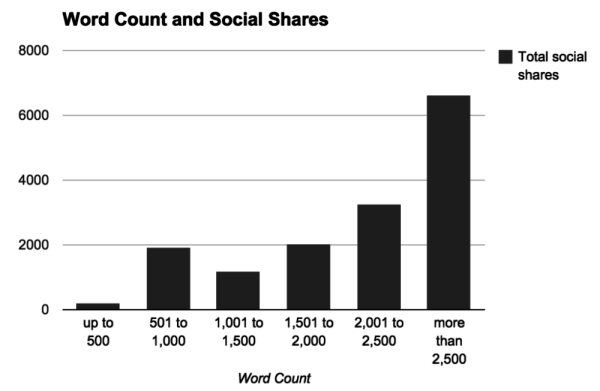 (chart from Buffer's study) So even if it means breaking your writing time into multiple sessions, taking the time to write long-form content will reap dividends. Just make sure each piece of your content is snappy and value-packed. Word bloat might increase word count, but the real goal is to increase article value.
Make it bite-sized
A couple years ago, BuzzSumo ran a fairly in-depth study to examine which content marketing factors were most closely linked to social media shares. By in-depth, I mean they literally looked at 100 million different articles. And while they found long content performed better than short content, they also found people preferred long content that is broken into bite-sized pieces. List posts drove nearly twice as many social shares as the benchmark, and infographics performed even better.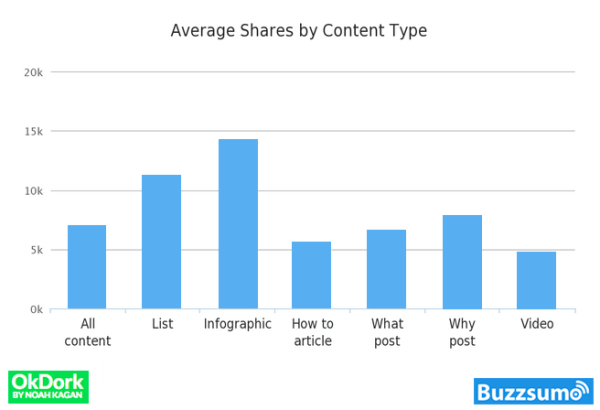 So when you write your content, don't set out to author the next great novel. Instead, think more along the lines of a series of tweets. You want your content to be digestible to both your dedicated readers who take in every word and your ADHD readers like me who skim read while scrolling down the page. Here's a few ways to make your LinkedIn content easily digestible:
Use plenty of headers and sub-headers
Break up your longer paragraphs into a couple small paragraphs
Use bullet lists like this one
Use images (more on this below)
Use pull quotes to highlight key points
Make sure your primary call to action stands out from the text
Remember that no matter how valuable your writing, many people will be turned away by a wall of text. Break it up and make it easily digestible to get your message out to more folks.
Use lots of images
If you were writing on your own blog, you'd use web design and images to set the right vibe for your blog. While your words communicate specifics, your design choices communicate the emotions and feelings that are just as essential. And data backs this up. BuzzSumo's study found articles with images drove 2.3x the social shares of articles without images. Similarly, Jeff Bullas found articles with images drove 94% more views than articles without images. As a general rule of thumb, you should try to have one image for every 200-300 words. That means as your readers scroll down they should almost always have an image on the screen. If you can't go that far, at least try to have a minimum of 3-4 images per post. Now finding good images can be hard, so let's quickly run through a couple of your best options. Charts - If you've done data research, don't just tell your readers about the finding. Put together a nice chart and make sure to include your logo in the image. Similar to infographics, well designed charts will encourage sharing in other articles and including your logo will help boost your traffic. Images - It's hard enough to find a good image. Finding a good image that you're licensed to use can seem impossible. One of my favorite image websites right now is Unsplash. In the complex world of image licensing, they offer a large supply of beautiful and free images. Custom Images - You know those inspirational photos with text overlay? You can do that today without even needing Photoshop. Canva makes it easy to quickly cook up professional looking graphics for free or low cost.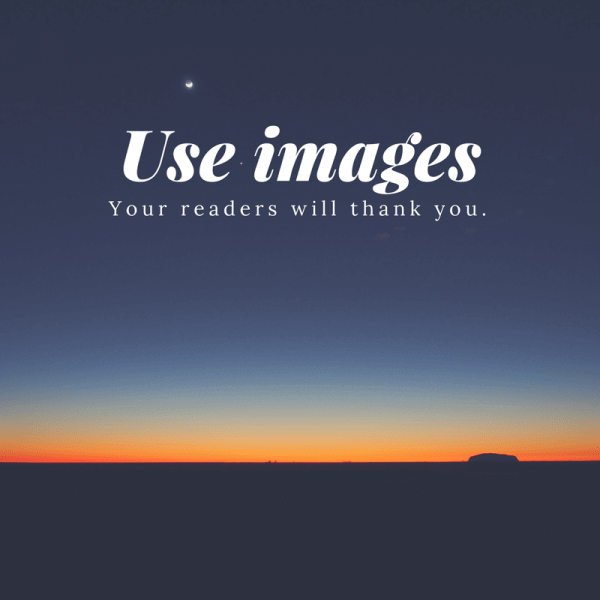 Gifs - You know how millennials now use gifs to replace 90% of written communication? (non-scientific estimate) These entertaining snippets of moving images can give your writing some extra spark if used well. I personally use GIPHY with it's easy search feature, and you can even create your own gifs using their online tool. Adding color to your posts doesn't have to be hard, and it has been proven to have a highly beneficial impact on both views and social shares.
Don't be too intelligent
As writers, it's tempting to want to use big words and highfalutin' language. But while you might impress your high school English teacher, your readers won't be happy. In an analysis of ~3,000 LinkedIn articles, Okdork found that the best performing posts tended to be written at the 11 to 15 year old level. Think simple words and short sentences. Specifically, you want to score between 60 and 89 on the Flesch-Kincaid Reading Ease test. This is a simple scoring system based on words per sentence (aka, how complex are your thoughts) and syllables per word (aka, are you using fancy college words). You can easily check your score with a site like Readability Score. For reference, the Harry Potter books score ~72 on average, and this article is currently ~66. It will even highlight the problem areas and give you tips on what to improve for better readability:

The headline is all that really matters
If you only do one thing, write a stunning headline. Put another way, if you don't write a stunning headline, you may as well do nothing else. If your headline doesn't convince people to click through to the article, you won't have any readers. And yet, despite the crushing importance of a good headline, too many authors spend three minutes slapping a headline on an article into which they poured their heart and soul. Writing a good headline doesn't have to be hard though. You really just need to spend a few minutes working on two steps. First, research the best practices. Studies have repeatedly shown a few common characteristics of high-performing headlines:
Use numbered lists: "5 ways to be successful at LinkedIn marketing"
Use emotional language: "The breathtakingly simple key to LinkedIn success"
Use "how to": "How to find customers on LinkedIn"
Use specific stats: "How I reached 435k people through LinkedIn content marketing"
As a general rule of thumb, you will want to consider 10-50 possible headlines before you settle on the winner. From there, you can either select the headline you think will perform best, or you can use a tool like KingSumo to A/B test your headlines.
Ok, still with me? I know this has been a lot of information, but it's really not that complicated when you turn it into a simple checklist (there's a reason surgeons use checklists). Click here to get the LinkedIn publishing checklist.
#3 Time To Promote!
Congratulations! Your post is now finished and you're ready to sit back and relax. But not so fast! You've put a lot of work into this article so far. Do you really want to just kick it out of the nest and hope it flies? What if you could help along the way.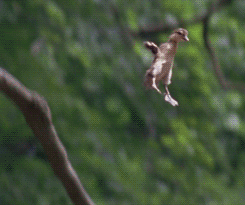 The good news is you can improve your odds of success. Now that your exciting new article is live, it's time to make sure your mom is not the only reader.
Featured on LinkedIn
Remember those LinkedIn channels from earlier? The ones with millions of followers? We want our articles to be featured to all those people. Featuring on LinkedIn is dependent on a combination of both algorithms and editors. On the algorithm side, it's likely looking at signals like initial traffic levels, bounce rate, and view to like ratio. On the editor side, it's a bit trickier. LinkedIn used to have a Twitter account that you could tweet at to ask for an editor review. That's unfortunately gone, but you still have options. Write with a specific channel in mind - When you're writing a guest post on someone's blog, you know how you do research to see what their voice is like, what their audience wants, and which posts tend to be most successful? Same thing here - increase your odds by targeting a specific channel. Get your friends onboard - Instead of hoping your actual readers like the article, ask 10-20 of your best friends to boost the initial like count. Assuming your article is as good as you think it is, this initial kickstart might be just what the doctor ordered.

Get some attention - Now it's time to get in front of the gate keepers. Reach out to a few authors who are repeatedly featured in your target channel. If they're inclined to help a fellow author out, they can probably get your content to the right person for review or at least give you some tips.
Get people's attention
"If a tree falls in the forest…" You know the rest. Don't publish your article into a black hole. Go proactively start getting people's attention. Mention people - When you share your article on LinkedIn, you can mention people (or companies) by using the @ symbol (even if they're not a connection). This will then trigger a notification in most cases. Don't try to use this to reach Richard Branson though - LinkedIn has algorithms to make sure individual people don't get too many notifications. This strategy will work best on the B- or C-level celebrities in your industry (like the "heroes" you found earlier in your research). Participate in relevant LinkedIn groups - As with any community, LinkedIn groups will be unhappy if you spam them with your article. So dropping links and moving on will do very little good, but actually being involved in the community can help you build your following. And your followers will be notified when you publish. Share often and everywhere - Yes, it's a LinkedIn article, but that doesn't mean you can't share to your audience on Twitter and Facebook. Also keep in mind that only a small portion of your audience will see any one tweet/post, so don't be afraid to share multiple times over the course of a week.
Ask people to like and share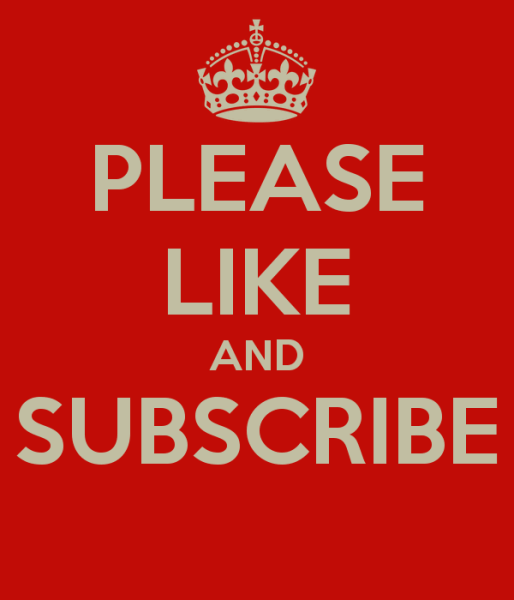 You know how at the end of YouTube videos, top creators will often ask you to "please like and subscribe"? Same thing here. Likes and shares will improve your article's visibility to more potential readers, so ask your readers to take this step. You can even create an image showing them exactly where to go. Don't be shy about communicating what you want. When you're crafting your article you're an author, but once it's out in the world you're a salesperson. You need to be willing to go door-to-door if that's what it takes to get the word out. Once you've built a large audience - email subscribers, LinkedIn followers, or something else - promotion will be much easier, but the initial growth depends on your hustle.
#4 Call your readers to action
What's the point of your LinkedIn marketing? Do you want more customers? Are you trying to become a thought leader? Whatever your goal, your readers can do something that will help get you closer - visit your product website, subscribe to your newsletter, or even just follow you on LinkedIn. Once you've convinced your readers to take this action, your LinkedIn publishing has been a success. Until then, all the article views are just vanity metrics that don't have any impact in the long-term.
Focus your calls to action
The list of things you can ask your readers to do is almost endless: like on Facebook, follow on Twitter, fund my Kickstarter, join my newsletter, contribute on Patreon, email friends, enter a giveaway, checkout my blog, write a comment. But if you ask for the world, you'll end up with nothing. Instead, prioritize and focus on the one thing that really matters. In most cases, that one thing will probably be: join my email newsletter. As much fun as building your LinkedIn following is, you don't own your audience on LinkedIn. LinkedIn can change their algorithms tomorrow and stop notifying followers of new posts. This is true of any third-party platform. The only way to own the connection with your audience is through email. Similarly, sending readers to your website/Kickstarter/Shopify store will likely hurt your long-term growth. Sure, some might buy something today, but most will be gone in the wind. If they join your email newsletter though, you can nurture that relationship and see a much higher conversion rate over time. But whatever your goal is, identifying consciously and focus on that throughout your article. The only exception is to possibly include a "like and share" call to action at the bottom of your article.
Use content upgrades
"Sign up for more like this" Do you know what that tells your readers? Two things: (1) I'm too lazy to really think about my call to action, and (2) signing up won't give you any immediate reward. We as humans tend to react much better to immediate rewards. Earlier today, I signed up for a blog newsletter. Not because I'm excited about the content I might get next month (my brain doesn't think that far ahead). I signed up because they offered immediate download of a PDF that contained information I wanted. This is called a "content upgrade". It'll be awesome if I learn something from the newsletter next month, but the only reward I care about right now is the guide I downloaded today.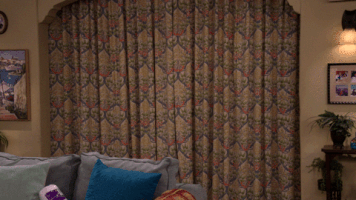 So instead of just asking your readers to sign up for your newsletter, take the time to put together a content upgrade. Offer immediate bonus material.
Not sure how to make a content upgrade? Check out this list of 28 content upgrade ideas and easily make your own. Click here to get the ideas now. ->
Once you've got a content upgrade or two, make sure your call to action stands out. Mention it a couple of times, and perhaps make it a clickable image to get even more attention. This is literally the whole reason you wrote and promoted this article on LinkedIn, so don't short change yourself here. A great tool to drive email signups is Welcome Mat. If you have this installed on your own website, you can simply drive LinkedIn readers there to signup for your newsletter.
#5 Rinse and repeat
Remember Louis from the very beginning of this article? His first article got lucky - he had 410k views. His second article though barely passed the 5k mark. No matter how much you try to optimize each individual article for success, time and practice will help you win in the long-term. You'll probably start out with a few thousand or even a few hundred views, and building up will take time. So if some of your articles flop, don't let yourself be too discouraged. After his first 410k views article, Louis barely saw 18k total views in all of 2015, but in 2016 he bounced back stronger than ever with more than 2 million views. Learn and repeat.