Meet the $10 billion real estate startup that wants to replace your cubicle
In late 2014, WeWork raised $335 million[1. Q4 2014 Startup Investment Dollars at Highest Point In 10 Years, Driven By Mega-Rounds and Private Equity] at a $5 billion valuation[2. From Kibbutz To Empire: WeWork Building $5 Billion Global Startup Community]. Then s months later, the company raised $400 million more at a $10 billion valuation[3. WeWork's Valuation Soars to $10 Billion], making it the 11th most valuable startup in the world according to The Wall Street Journal[4. The Billion Dollar Startup Club].  Though some are already questioning it's long-term stability[2. $10 billion WeWork could have trouble meeting its wildly optimistic financial projections] [3. Analysis: Is WeWork at $10B the most unjustified valuation since the dot-com bubble?], that valuation puts WeWork in roughly the same neighborhood as Pinterest, Dropbox and SpaceX[4. The Unicorn List: Current Private Companies Valued At $1B And Above]. So what exactly is WeWork?  From a customer perspective, they provide coworking office space to thousands of people in dozens of cities around the world.  From a business model perspective, they lease floors of office buildings, build it out into smaller offices and coworking spaces, and rent those out at a higher cost per square foot[3. WeWork's Valuation Soars to $10 Billion].
Shake up a frozen industry
In a time when internet startups are all the rage, Miguel McKelvey and Adam Neumann, WeWork's founders, decided to attack a different problem: commercial real estate.  Worth about $3 trillion per year[6. Global Commercial Real Estate: Market Research Report], this industry is far from new, and already includes major players like Boston Properties (valued at ~$22 billion)[7. World's Biggest Public Companies: #1,087 Boston Properties].  So why did WeWork decide to take on this behemoth industry?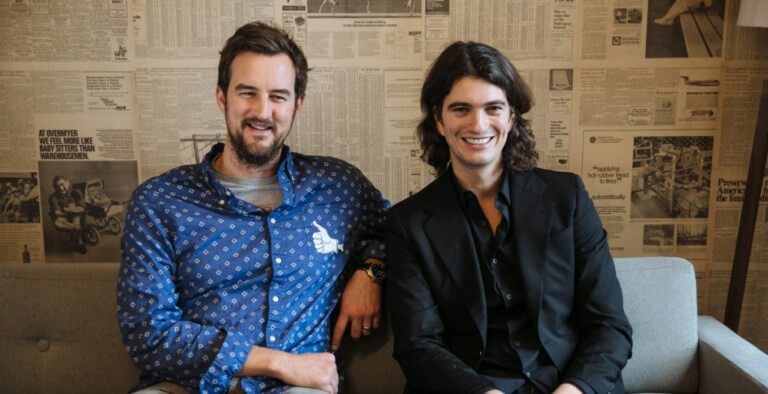 McKelvey and Neumann's strategy can really be summed up in two parts: (1) adding value to the tenant's side and (2) decreasing risk on the landlord's side. Tenants: More Value For tenants (which WeWork calls "community members"), WeWork offers to be more than a faceless landlord providing four walls.  In addition to space, WeWork has fostered a community between their members that helps small businesses and freelancers help each other. And even more importantly, this community just makes showing up to work more fun as studies have found having a friend at work is a strong predictor of workplace happiness[6. Why Friends Matter at Work and in Life]. Befriending their member's wallets, WeWork functions as a discount club by using the power of their 40,000+ members[8. WeWork Added 25,000 Members in 2015] to negotiate discounts on everything from healthcare to shipping services.
Landlords: Less Risk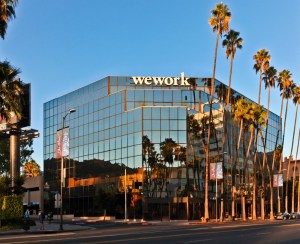 On the landlord side (their own), WeWork minimizes risk in two ways.  First, unlike many commercial real estate companies, WeWork doesn't actually own their buildings.  Instead, they setup long-term leases with the actual owners.  Though this does decrease their asset value, it also means they can more easily move on if a particular location turns out to not take off.  As we'll see later, it's also given them the ability to work with the building's owners to finance many of the upfront costs of building out a new space[9. WeWork Used These Documents To Convince Investors It's Worth Billions].
Secondly, because WeWork's space is so flexible that it's easy to give a member more or less space as needed.  In WeWork's pitch to investors in early 2015, they estimated that a downturn in the economy would still leave them with 85% occupancy rates[8. MUST READ: WeWork's Pitch Deck] - a strong competitive advantage in the real estate business.  Of course, the accuracy of their forecast has yet to be proven, although WeWork's founding during a recession does bode well for their resiliency. Impressed by WeWork's innovation (and results), Boston Properties chair Mort Zuckerman personally invested in the funding round that originally pushed WeWork in to the $1 billion valuation club.[9. WEWORK WORKS ITS WAY TO $1.5B VALUATION]
Growth Principle #1: In an age of horses and buggies, it's easier to sell a horseless carriage than a car.  Innovate on what already works. (tweet this)
Ignore everyone who isn't your target audience
Just as Facebook originally focused on just college students, WeWork has been careful to start out with a very specific target audience in mind: freelancers. With a market as big as commercial real estate, it can be tempting to want to build a product that works for everyone, but that strategy usually pleases no one in the end.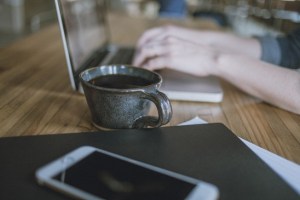 WeWork's founders didn't have normal childhoods. Adam Neumann spent much of his childhood in a Kibbutz (group farm) in Israel, while Miguel McKelvey grew up in a collective in Eugene, Oregon[5. From Kibbutz To Empire: WeWork Building $5 Billion Global Startup Community]. These experiences gave them a deep respect for community at home and at work, so Neumann and McKelvey initially set out to build WeWork for the target audience they knew would benefit the most from community… freelancers[10. Selling office space and happy hour to a rising economy of freelancers]. By initially focusing on the self-employed, WeWork has been able to ride the wave of the freelance economy. In the United States alone, an estimated 53 million people employ themselves through freelancing (that's 34% of the workforce).  This trend permeates all ages, but millennials are particularly likely to freelance (38%)[6. 53 million Americans are freelancing, new survey finds]. Over time, WeWork has sought to diversify it's user base both to improve community and manage risk.  Today, WeWork still leans young and freelance, but also includes larger clients from Reddit to Coca-Cola.[8. WeWork's Pitch Deck]
Growth Principle #2: It's easier to climb a mountain once you have the first foothold.  Choose a specific target audience for initial business growth. (tweet this)
Know what makes you different
When you boil down a business, you generally are left with one core value and one critical differentiator.  McDonalds sells food, and they make it fast. Netflix streams entertainment, and they provide recommendations.  Amazon sells all the things, and they deliver it free. WeWork provides space to work, and they encourage networking between members. Read any interview with Neumann and McKelvey, and you're likely to encounter the word "community" multiple times. This aspect of the business is more than just another feature to them - it's the reason they started WeWork in the first place. As they build out new locations, WeWork puts a lot of thought into how the design can spark conversations between members.  McKelvey, who's actually a trained architect himself, says their design goal is a balance between "individual pursuit and collaboration".[5. An Office for Everyone]  Extending this goal outside the office, WeWork has even hosted thousand person summer camps for WeWork members only.[9. Camping Out With the Office]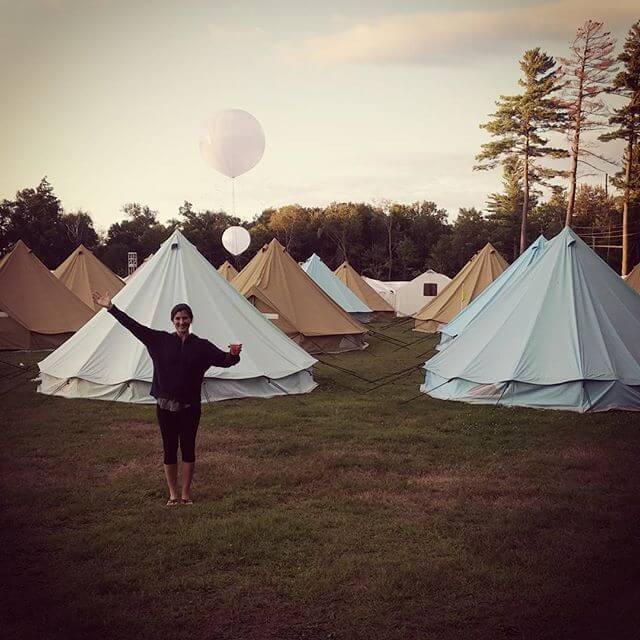 And this focus extends to selection of business partners. Co-founder Neumann says, "We try to choose only 'we' investors. Not just anyone we who offers us money— investors who… and think collaboration is the future of innovation."[12. WeWork Raises $6.85 Million and Moves West, Young Man]  New employees are carefully interviewed to make sure they "don't see WeWork as just another real estate play".[10. Inside The Phenomenal Rise Of WeWork]  Anyone partnered with - whether they're supplying money or time - will have a critical influence on the business, so it's incredibly important to get the right people. Reading through WeWork's Yelp reviews, this focus on community has paid off.  Many reviewers mention that they "work alone"[1. Alice L. Yelp Review] and the community at WeWork makes them "LOVE coming in every day"[15. Natasha M Yelp Review].  Going deeper, others claim that the community focus at WeWork has actually helped grow their businesses.  The owner of a boutique marketing agency, Dean Bardouka cites WeWork for helping his agency "find new tools, clients and partners for our business."[2. Dean B Yelp Review][17. Who We Are]
Growth Principle #3: Find the one thing that matters most to your users and make it your driving focus. (tweet this)
Grow with your clients
Particularly in the world of business services, the solution that fits a 2 person startup will probably not scale very well to a 200 person company.  You might start out with Freshbooks or Xero, but you'll probably switch to Quickbooks once you have a dedicated accounting team.  Similarly, you might start out in a coworking space, but you'll probably need more traditional office space before long.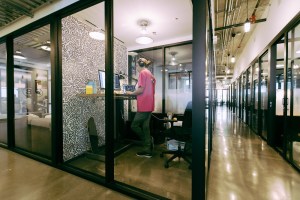 WeWork attempts to curb this attrition through growth, but providing their clients with flexible space.  Whether you need more or less space, they can easily adjust with you.  And even when your size does demand a separate office space (probably around two dozen employees), they make it easy to still keep a satellite office open in WeWork (even Coca-Cola rents some space)[8. WeWork's Pitch Deck]. Business Insider actually moved their San Francisco office to WeWork in early 2015 specifically because of this flexibility.  Their previous landlord couldn't guarantee space for newly hired employees, but they found WeWork was able to immediately accommodate their 20 person and growing team.[12. Why WeWork really might be a $10 billion company]
Growth Principle #4: Your users are on a journey; become a guide along the way rather than an oasis they travel past. (tweet this)
Encourage demand past your supply
The idea of building a better mouse trap and hoping people beat a path to your door is intrinsically flawed. As any lean startup disciple worth their salt can tell you, you must first verify that people actually want a better mouse trap.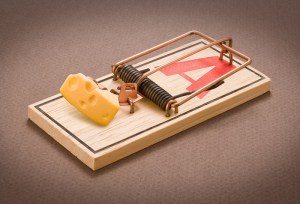 WeWork is very careful to make sure demand out paces growth.  Throughout the month, WeWork hosts events at their locations designed to boost awareness despite the fact that their current locations are near 100% occupancy rate [16. WeWork Pitch Deck].  Similarly, their new WeWork Commons membership offers perks, networking, and $50/day access to a shared desk [17. WeWork Commons Pricing].  In other words, WeWork Commons members get to dip their toe into the water before potentially becoming full members in the future. Because WeWork uses events and trial programs to develop future members, they have a track record of selling out new spaces before they're even built.[12. Why WeWork really might be a $10 billion company]  This means better bargaining power with landlords plus positive cash flow from day one. But this investment in demand really pays off in a down economy.  According to WeWork's estimates (which are likely optimistic), they expect to still retain an 85% occupancy rate even in a bad economy.[12. 5 things to know about WeWork's $10 billion valuation]  By comparison, Regus (a competitor) celebrated when they hit a "robust" 81.5% occupancy rate late last year.[12. INTERIM MANAGEMENT STATEMENT – 31 October 2014]
Growth Principle #5: Better to run out of supplies than to run out of customers.  (tweet this)
Keep costs low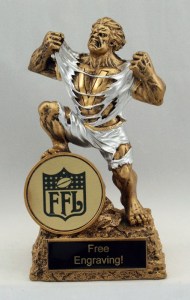 Most of us have spent years being told that accounting is boring. And sometimes it can be. But here's a simple truth: Numbers make the world go 'round. Budgeting, financial analysis, and even bookkeeping are critical functions in any business.  And the good news?  If done right, accounting can actually be just as much fun as optimizing your fantasy football team. CPAs can get into all sorts of complicated formulas and spreadsheets, but the core principle of profitability is as simple for a company as it is for a person: bring in more (revenue) that you spend (fixed costs + cost of goods sold).  WeWork has reached a $10 billion valuation because investors believe it is (and more importantly will continue to be) good at making more money than it spends. How exactly does WeWork keep costs low? For one, they've managed to use 65% less space per office - 7 square feet instead of 20[2. From Kibbutz To Empire: WeWork Building $5 Billion Global Startup Community].  Your average office building has large, walled offices - resulting in wasted space in offices that still feel claustrophobic.  WeWork's increased efficiency by cutting down on office size and (equally importantly) using glass walls to make the space feel more open.[30. Why WeWork really might be a $10 billion company]  They've also designed space-effective coworking areas were people can work desk-to-desk - following the controversial open office trend.  The result? More paying clients per square foot and less financial risk from individual clients leaving. WeWork also manages to cut costs by picking inexpensive buildings to lease. In the commercial real estate business, building owners look for "anchor tenants" who lease a large chunk of the building and make the property more attractive to other tenants.  Between choosing properties in distressed neighborhoods (making a bet that it's on the up swing) and landing an anchor tenant discount, WeWork has been able to keep their monthly costs down[31. Inside The Phenomenal Rise Of WeWork].  As for the up front cost of building out a new property? They've been able to negotiate with landlords to cover as much as 50% to 75% of the initial build out costs.[32. WeWork Used These Documents To Convince Investors It's Worth Billions]
Growth Principle #6: A penny saved is a penny earned. It's as true for business as it is for personal finances. (tweet this)
Continually improve the experience
If there's one thing we've learned from Silicon Valley buzzwords, it's that every startup needs to "pivot" - aka, improve on the initial idea. Also that your "Uber for x" startup is not as "disruptive" as you'd like to think. But back to pivoting. No idea starts out so polished that it can't be improved upon, and WeWork has been no exception. Way back in the early days, McKelvey and Neumann worked in different companies in the same New York high rise.  After noticing a lot of vacancies in the building, they joined forces in 2008 to start Green Desk - a coworking space with recycled furniture and wind-powered electricity.[32. How WeWork became the most valuable startup in New York City] A few years later, they sold their shares in Green Desk for a few million before improving on the coworking idea and opening WeWork.[32. Neumann on tap]  Green Desk had been a success, but as Neumann put it, "green should be a part of anything we do, but community is really the future of work".[32. How WeWork became the most valuable startup in New York City]
After the launch of WeWork, McKelvey and Neumann put a few things in place to continue improving the model.  Knowing that community drives WeWork, they actually setup cameras in some locations to track usage of common spaces.  By understanding how and when people use conference rooms or kitchens, WeWork is able to actually iterate on the physical design of a space.[40. WeWork's Adam Neumann On The Importance Of Community, Which Helped Build A $5 Billion Business] On the more qualitative side, WeWork community managers as recently as six months ago still hand delivered mail to members.  This personal interaction is the perfect excuse to ask members for feedback. By asking questions and really listening, companies like WeWork can continually improve the way they serve their users - even years into the business.
Growth Principle #7: Even the best companies have room to become better. Listen to what users say and do. (tweet this)
Expand fast on a proven model
In growth marketing, we like to analyze companies in three distinct phases: (1) Product market fit, (2) Transition to growth, and (3) Growth[43. The Startup Pyramid].  After years of honing their processes, WeWork is solidly in the growth stage. After opening their first location in April 2011[44. $10 billion WeWork is raising $750 million in debt financing], WeWork slowly built up to 9 locations by late 2013. Just a year later, they had grown to 21 locations in late 2014 with plans for 60 by the end of 2015.[44. Inside The Phenomenal Rise Of WeWork] Scaling even faster than planned, they've blown that goal out of the water with 66 locations by the end of 2015 - from Amsterdam to Seattle to Tel Aviv[Accessed Dec 21: WeWork - Our Spaces].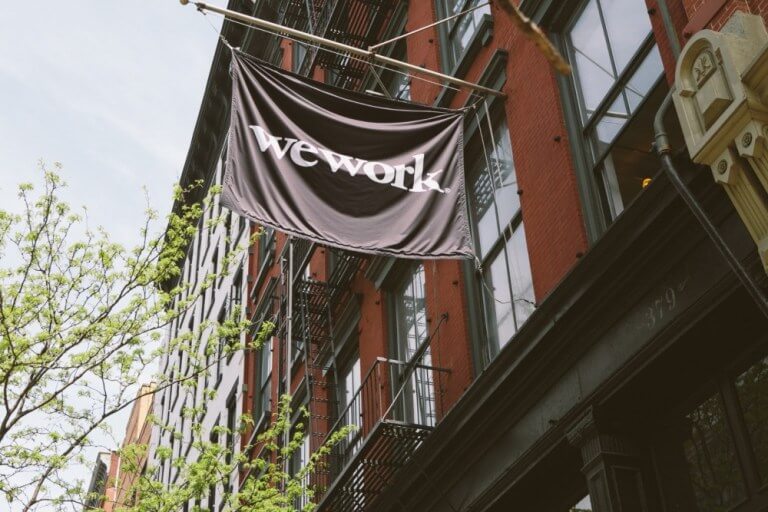 So how have they been able to open so many new locations so quickly? Through years of trial and error, WeWork has identified an almost scientific process for opening a new location.  Actually, two processes. Market Terms - As described in WeWork's leaked Series D pitch deck, "market terms" have normal rent prices but with the landlords covering 50% of the capital expense (cost to build out a new location). WeWork expects these locations to be breakeven within 22 months.[8. WeWork's Pitch Deck] Asset Light - Even better for WeWork, these deals include the landlord covering 75% of build out costs while the rent may also be discounted (due to a less desirable property).  With the landlord absorbing a larger percent of initial expenses, WeWork forecasts breakeven at just 7 months on these properties.[8. WeWork's Pitch Deck] Though the initial asset light model included profit sharing with the landlord, WeWork has since removed that aspect.[9. WeWork Used These Documents To Convince Investors It's Worth Billions] Once a building is located, WeWork's recruiting machinery kicks into gear to start lining up residents. Tapping both wait lists and "WeWork Commons" members (part-time membership without a dedicated desk), WeWork quickly fills out new spaces.  This ability to store demand is one of WeWorks greatest strengths. After opening a new location in New York's Meatpacking district early in 2015, WeWork sold out in days to people who had been on the wait list for as much as two years.[44. WeWork's utopian vision of your future life—in the office]  
Growth principle #8: Your goal is to build a growth machine.  Once you find a tried and true process, kick into high gear. (tweet this)
Explore new verticals
Having honed their expertise in what could be termed "commercial micro real estate", WeWork is now considering expanding into the residential market.  The idea of micro apartments isn't new, but it has yet to be tried at a large scale at least in the United States. Called WeLive, this project has been in the works as far back as May 2014 when WeLive conversion plans were proposed for a building in Crystal City, near Washington, D.C.[50. 'Micro-Unit' Apartments Proposed for Crystal City]  Essentially luxury dorms, the development would feature shared living spaces and kitchens with 360 square foot or smaller residences. Melding well with WeWork's community-driven mission, WeLive could also boast the advantage of potentially lower rent (WeWork estimates 36% lower)[8. WeWork's Pitch Deck].  Particularly for young professionals in big cities, single occupant units are generally far too expensive, so roommates are the norm.  WeLive comes at the low price of living with roommates but without sacrificing too much privacy. Perhaps even more importantly, they'd save residents the hassles of finding and interviewing new roommates.
As amazing as the idea sounds, WeWork seems to be finding it harder to launch than expected.  While those WeLive plans for Crystal City were approved in July 2014[54. Micro-Units and Shared Living Space: Crystal City WeLive Concept Gets Approval], WeWork has since amended them to include a normal WeWork in the same building[55. Work where you live? For WeWork fans, there's a place for that in Crystal City].   WeWork Crystal City is now listed as "opening soon"[54. WeWork - Crystal City], but WeLive Crystal City, originally slated to open October 2015[8. WeWork's Pitch Deck], isn't showing any signs of life yet.
Growth Principle #9: If you manufacture sleek kayaks, consider also making river rafts. Do more with what you already have. (tweet this)
 Looking Forward
WeWork expects their revenue to grow 38x between 2014 and 2018, and if their building and community numbers are any indication they seem to be roughly on track.[8. WeWork's Pitch Deck] With new buildings being added and filled at rates that put the traditional commercial real estate industry to shame, WeWork seems to be setting a solid pace for itself.  Just a couple months ago, they raised another $750 million in debt financing (a common funding strategy for late stage private companies). [55. $10 billion WeWork is raising $750 million in debt financing] But as with any fast-growing, innovative company, WeWork will be facing a number of challenges over the next few years. Environmental risks like a decline in the startup market (one of their biggest customer segments) and even the normal boom and bust cycle of real estate could test the strength of WeWork's cash reserves (and the accuracy of their 85% down market occupancy forecast). Within the company, WeWork is at risk of expanding too rapidly - either compromising it's culture of community or simply overestimating the potential market size. Will we all be living and working at WeWork in five years or will it fade into our memory as a once-upon-a-time unicorn startup?