How A Simple Jacket Drives Growth For Deliveroo [Growth Hack]
Good marketing boils down to two primary areas: perfecting standard processes (like AARRR metrics) and uncovering new innovations (popularly termed "growth hacks").  Hopefully this series on clever growth hacks will inspire new ideas that push the envelope. Sometimes seemingly small choices can have outsized effects.  Where I live in London, the food delivery industry is quite competitive with global players like Uber Eats as well as local players like Deliveroo and Just Eat.  As three-sided marketplaces, these companies have to acquire and retain restaurants, riders/drivers, and customers[1. The Billion Dollar Food Delivery Wars]. Over the last six months of commuting, Deliveroo has managed to win the battle of positioning in my mind because of one very simple growth hack: the choice of jackets for their bicycle delivery riders.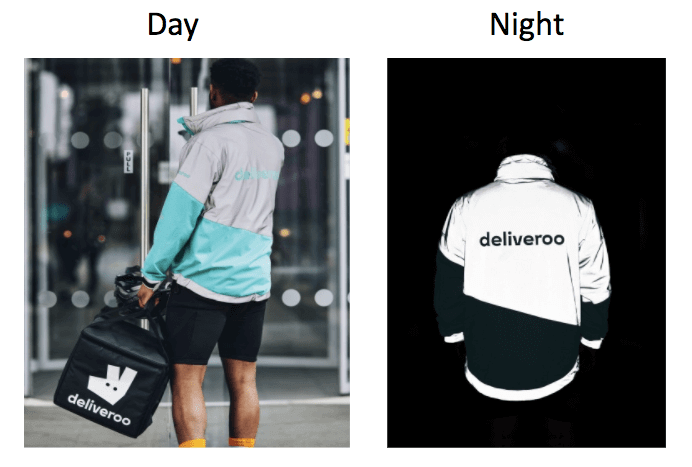 Distinctive during the day and reflective at night, this single jacket manages to boost both rider and customer acquisition and retention.  Lets break down exactly what was achieved here.
Moving Advertisement
Both the unique coloring and angular design make this jacket noticeable even during the day.  Each jacket is a mini advertisement of sorts. Because Deliveroo has thousands of riders around the city, the average commuter probably sees at least 2-5 jackets each day. Eventually, curiosity is piqued, and a quick internet search for "Deliveroo" might end in a new customer. In my case, I've not yet used any food delivery service in London, but when I do Deliveroo has managed to position itself as the first that will pop into my mind.
Rider Safety
Particularly at night, the reflective design of this jacket improves rider safety.  With London roads crowded day and night, Deliveroo recognized this jacket as a chance to keep their riders safer (in addition to bicycle lights of course). So when Deliveroo conducted a full design overhaul back in September, they specifically reached out to a road safety non-profit and asked for advice[2. Deliveroo unveils new kangaroo as part of rebrand].  They also consulted Deliveroo riders in multiple countries to understand what they wanted in a jacket (answer: warm, waterproof)[3. DesignStudio completes minimal rebrand for Deliveroo][4. More info for riders on our new kit]. As a result, Deliveroo riders are now part of the enlightened (get it?) minority of bicyclists who literally light up in headlights. (Similar reflective jackets for ordinary bicyclists are also becoming more popular.)
Part of the Family
Psychologically, giving people a uniform of some sort does wonders for making them feel part of the "family".  I've seen Deliveroo riders wave to each other as they pass, and making people feel they're part of a special group does wonders for rider retention and happiness.  Everyone wants to belong. When I was in Indonesia a few months ago, I saw similar excitement around their local motorcycle ride-sharing / delivery company GoJek.  Each rider got a high quality motorcycle jacket, and wearing it became a point of pride for thousands of riders[1. My Opinions about GoJek].  These people would hangout together while waiting for calls, and being a GoJek rider became almost more of a social movement than a job.  Whenever GoJeck recruited for new riders, hundreds more people would line up to apply. Of course, a jacket is only one part of building a good company/rider relationship, and Deliveroo (like most contract-based companies) does face challenges mostly around pay and benefits[4. Deliveroo reveals new logo and visual identity].